Donna Davis: ECU graduate continues musical journey with new recording | Featured Columnist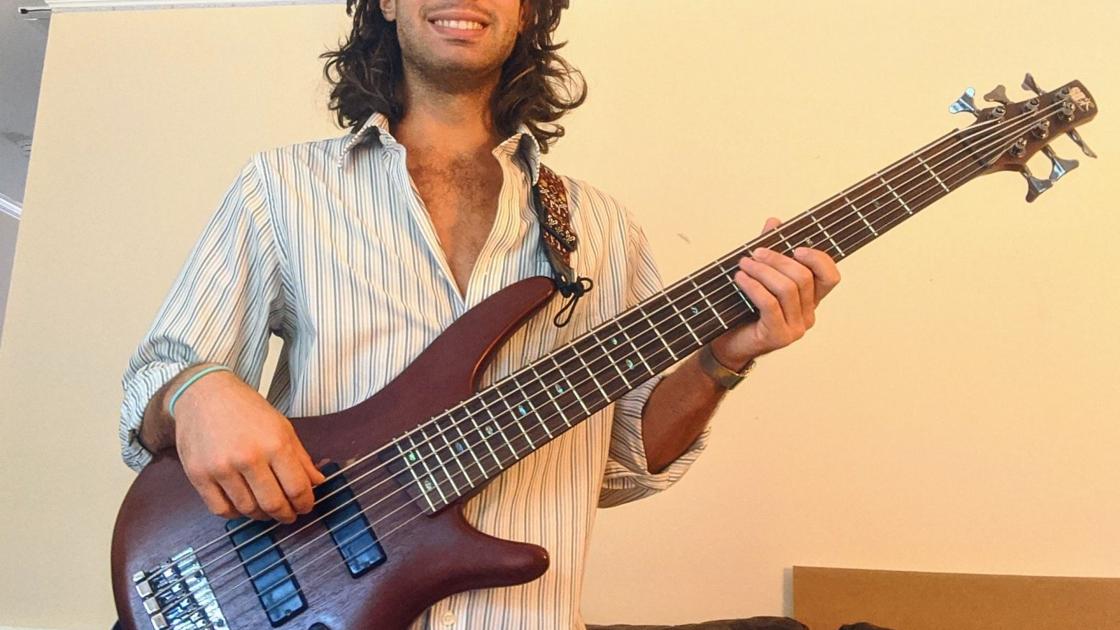 This is the latest installment in an ongoing series featuring local musicians.
Chris Puckett's EP Bass Olympics 2020 puts low notes high on the podium. While bass often plays a supporting role in a band, Puckett's recording features the Heartbeat instrument front and center and, surprisingly, solo.
Currently enrolled in the graduate program at East Carolina University and earning his CAPS (Certificate of Advanced Performance Studies), Puckett explained that finding the direction of his life was a roundabout route.
He was introduced to music by his father from an early age. "I remember listening to Pink Floyd's 'Dark Side of the Moon' every time he picked me up from daycare. When I was a teenager my dad showed me the band Alice in Chains, and that's when I decided to start teaching guitar and bass myself.
Originally from New Hampshire, his family moved to Pender County when he was in fifth grade. In high school, he started playing bass for church and in the school's jazz band. He enjoys playing guitar, bass, double bass, drums and piano, and has an eye on another instrument. "John Coltrane's 'Ascension' and 'Meditations' albums made me want to learn the saxophone," he says.
When it came time to make a decision about college, Puckett said he "got lucky to go to ECU."
During Puckett's senior year of high school, a friend who was going to ECU suggested that Puckett apply as well. At the same time, a mentor advised against majoring in music because it became a chore rather than a pleasure while in music school.
"What you tell people who admire you makes a difference," Puckett said. "So three semesters at ECU and I felt like I had no goal. So I decided to audition for music school and managed to get in some way or so. 'another. I remember Dr Bair, the saxophone teacher at ECU, followed me in the elevator after my audition telling me that I had a lot of potential to be a really good bass player. 'scored and that's exactly what I did.
After earning his undergraduate degree, Puckett enrolled in the one-year certificate program at ECU and plans to pursue his master's degree at the University of Miami.
"When I went to ECU I really fell in love with jazz music," Puckett said. "Every time I listen to Wayne Shorter's 'Speak No Evil' album, I get a burst of energy. Sometimes I cry even while listening to music that I really like. It's moving for me, and pursuing music gives me purpose. I would say jazz is my favorite music to play. When you start to fall in love with music, you start to get hungry, for example really wanting to learn the language. Jazz is constantly evolving.
In addition to many jazz and classical musicians, Puckett cites his high school conductor, Keil McMurray, and his ECU music teacher, Carroll Dashiell Jr., as inspirations.
"Sir. Dashiell pushes me to not only be the best musician I can be, but the best version of myself as well.
Puckett remembers that when his mother passed away, Dashiell was very heartwarming for him. "I will never forget his kindness to me. It's times off the band booth like this that remind me why I aspire to be a professional musician so that I can be my real me.
His original instrumental music album, "Bass Olympics 2020," was completed during the Tokyo 2020 Olympics. "My friend Max Mallett helped me record, mix and master the tracks. We used the Ableton Live recording software. The album took us a few months to mix until we felt it was ready to release.
The pieces are aptly named gold, silver and bronze.
"The music is calming and emotional," Puckett said. "It takes you on a sweet musical journey and is easy to listen to. I started writing instrumental music because I wanted to simplify. Sometimes you don't have to say anything because the music will speak for itself.
Regarding his future, in addition to playing with others for therapeutic purposes, he said: "I like being in a school setting and I like people. I always wanted to be a teacher. I think going for my master would prepare me for that. Going to the ECU taught me the importance of focusing. There are a lot of sacrifices to be made, but the most important thing we can do is take care of our body. Music comes from within.
Puckett offers private music lessons and currently writes a lot of instrumental music which he categorizes as "color" for simple visuals. The next album he's releasing is called "Prism".
Donna Davis works for the Pitt County Government, supporting the technology. She has made her home in eastern North Carolina most of her life. She enjoys playing with local musicians, running and writing. Contact her at [email protected]