Giordano Dance Chicago Lights Up the Stage on Return to the Harris Theater | Chicago News
(Photo by Gorman Cook)

Members of Giordano Dance Chicago – the company founded in 1963 by jazz dance master Gus Giordano – arrived on stage at the Harris Theater for Music and Dance in grand style and exceptional form on Friday night. It was their first big live show since the start of the pandemic. And to open the program, artistic director Nan Giordano, her co-choreographer Cesar D. Salinas and the dancers designed a piece that felt like a joyous modern ritual in the aptly titled "Illuminate".
Dressed in white, the dancers were greeted on stage by Bongi Duma, the South African-born singer / songwriter whose many credits include a long association with the Broadway musical, "The Lion King". As they gathered in a long horizontal line and the women waved beautifully colored silk scarves, they fully experienced what has been described as "a dance of welcome that embraces all that we feel – beauty, community, energy, gratitude, love and unity. "And then it was the superb performance of six works by an ensemble made up of many talented new dancers and a few veterans. Among these was Zachary Heller, an outstanding member of the company during the 14 years, who received a heartfelt "farewell" to celebrate his latest performances with the company.
Heller danced beautifully as a soloist in the program's opening work, "Flickers," an intensely athletic and acrobatic piece for 11 other dancers (Brittany Brown, Ashley Downs, Rosario Guillen, Amanda Hickey, Adam Houston, Sasha Lazarus , Skyler Newcom, Onjelee Phomthirath, Katie Rafferty, Fernando Rodriguez and Erina Ueda). Choreographed by Marinda Davis, it is set to music by experimental group Son Lux, with lighting designer Julie Ballard playing the title of the work by means of a multitude of starry bulbs suspended above the action. . And although it premiered in 2019, just before the outbreak of the pandemic, the play – with its on-the-spot running sequences, frantic swerves in painstakingly supported elevators, and a series of frantic mood swings from the darkness to light – now has a strange clue of what was about to take place in the world.
Then, "A Little Moonlight", a charming romantic duet choreographed by Autumn Eckman and performed with effortless panache by Adam Houston and Katie Rafferty. On 'What a Little Moonlight Can Do', the popular 1934 song by Harry M. Woods (made famous by Billie Holiday, but here in a recording by Canadian singer Emilie-Claire Barlow), she evoked the roots of jazz dance. of the company that were so well planted decades ago by Giordano.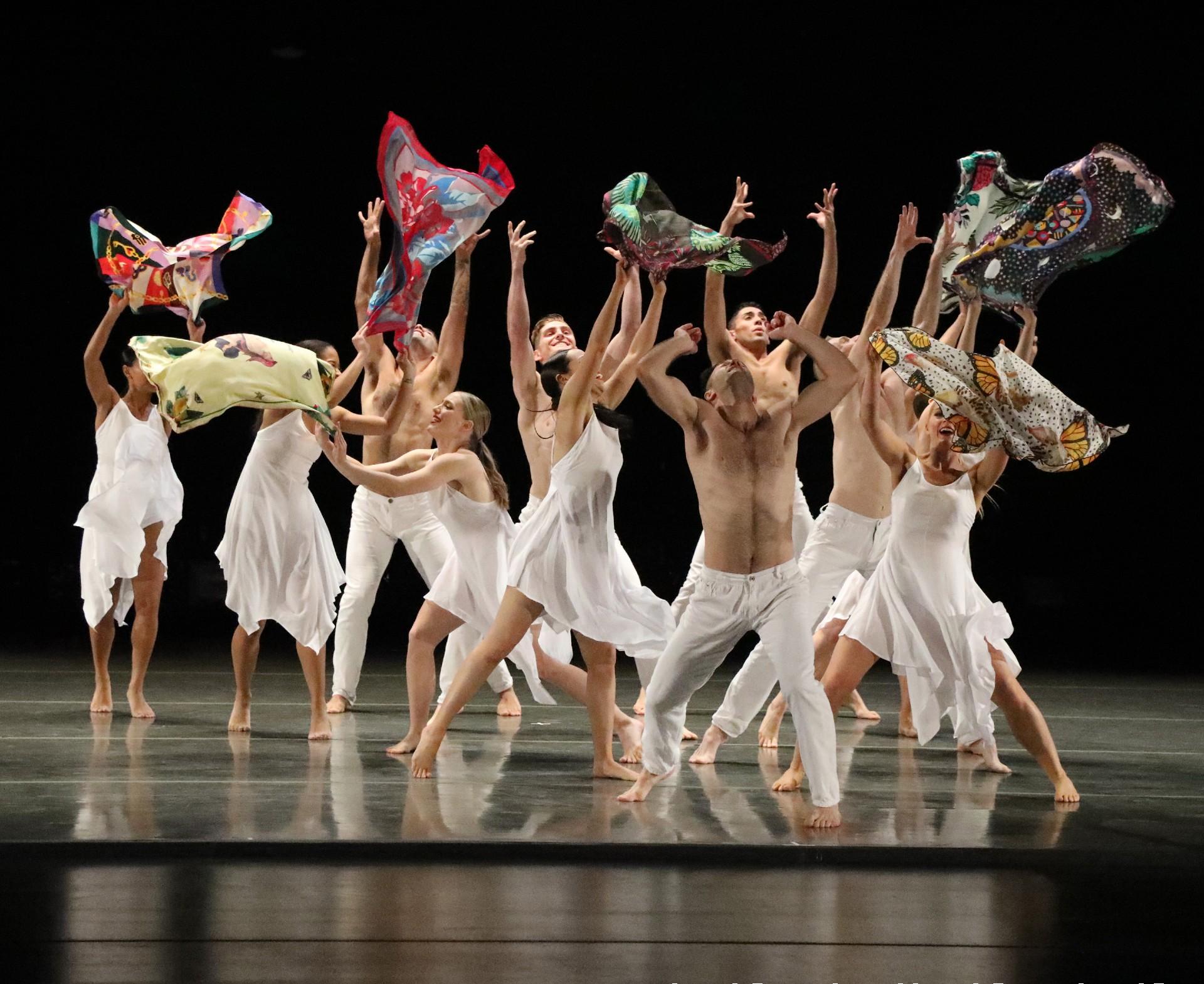 (Photo by Gorman Cook)

A much more controversial series of sex was mentioned by Ray Mercer in his 2015 article, "Shirt Off My Back". Set to music by Max Richter, Olafur Arnalds and Bongi Duma, this work for 10 dancers dealt with themes of passionate connection and rejection, outside interests and everything in between. Particularly disturbing was the spooky pas de deux, superbly performed by Amanda Hickey and Fernando Rodriguez, which sounded like an eerie reminder of recent couple Gabby Petito and Brian Laundrie.
There was a much lighter, more joyful, jazz-infused quality to Joshua Blake Carter's 2018 work "Take a Gambol" to music by Yazz Ahmed, Maynard Ferguson, Perry Como, Mose Allison and Quincy Jones. . The ensemble has taken on various roles from guys and dolls, from flirtatious couples, to a sexy troublemaker, to a lonely loner, and a group of rocking guys – all in an elegant and dancing mix and match. with exuberance.
'All For You', a duet choreographed by company member Adam Houston, and 'Undan Hulu (' From Behind Shadows) ', lyrical and spatial music by Icelandic composer Olafur Arnalds, was beautifully danced by Newcom and Downs .
The program closed with "Pyrokinesis," a large-scale, high-velocity work from 2007 choreographed by Christopher Huggins (a former Alvin Ailey dancer). To music by George Winston and the United Future Organization 'nu-jazz', with the dancers dressed in Branimira Ivanova's black red-striped suits, it was Heller's personal choice for a 'send off' piece, and it matched the bill perfectly. .
Follow Hedy Weiss on Twitter: @HedyWeissCritic
---