'Hooked' by Armstrong and Lunceford Records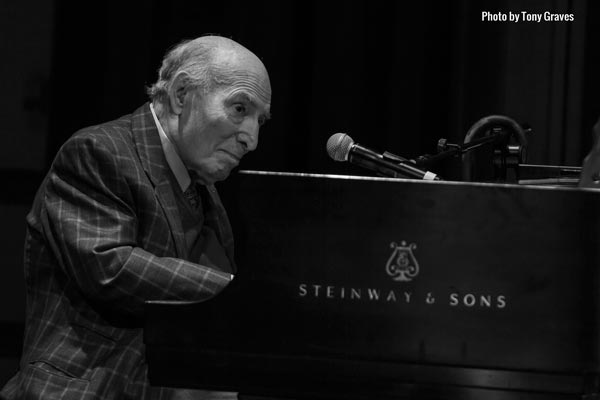 NEW | CHARACTERISTICS | OVERVIEW | EVENTS
By Sanford Josephson
originally published: 10/01/2021
Reprinted with permission from the New Jersey Jazz Society
In December 2013, as the Newport Jazz Festival approached its 60th anniversary, New Jersey Performing Arts Center President and CEO John Schreiber hosted an invitation-only party of "Music and Conversation with George Wein."
Wein, founder of the Newport Jazz Festival, died on September 13, 2021 at the age of 95 in Manhattan. At the NJPAC event, he recalled one of the historic moments in the history of the Festival – the performance of the Duke Ellington Orchestra in 1956. This performance – triggered by a combination of "Diminuendo in Blue" and "Crescendo in Blue "highlighted by tenor saxophonist Paul Gonsalves' extended solo, is credited with revitalizing Ellington's career.
"Ellington called me Thursday night," Wein said, "and I asked him what he was going to do at the concert. He said he would play a medley of favorites. I said, 'I want to carry on. the genius that is Ellington, I'm not getting any help from you.
In his autobiography, Me among the others (DaCapo Press: 2003), co-authored with Nate Chinen, Wein described what really happened at the concert. "At the right time, Gonsalves dug with his tenor and started to blow. Somewhere around the seventh chorus, it happened. A young blonde woman in an elegant black dress appeared from her dressing room and began to dance. She had caught the spirit, and everyone had noticed – Duke included. . . The tune ended and the applause and cheers were immense – louder, louder and more massive than anything one had ever heard at a jazz concert before. "
I had the pleasure of interviewing Wein in June 2013 for my book, Jeru's Journey: The Life and Music of Gerry Mulligan (Books Hal Leonard: 2015). While Wein was a huge Mulligan fan, he told me about an unpleasant event at the very first Newport Jazz Festival in 1954. "I had worked so hard to organize a reunion of Billie Holiday, Teddy Wilson, Lester Young, Buck Clayton , and Jo Jones, "Wein told me. "It was recreating Billie Holiday's big bands from the 1930s – the first big records she made. Gerry was so moved he jumped on stage to play with them. And I didn't want him on stage. . I was really pissed off at the time. He disturbed the memory of what I was trying to achieve… At his funeral, I explained how very angry I was with him, but now I see he was in his place because they are all together in Valhalla.
Advertise with New Jersey Stage for $ 50 to $ 100 per month, click here for more information
---
Wein was born October 3, 1925 in Lynn, MA. His mother, Ruth, was an amateur pianist and he started taking lessons at the age of eight. In high school he conducted a jazz orchestra, and in his autobiography he recalled his first exposure to the music of large orchestras. His older brother, Larry, brought home a new record player "and a set of 35-cent Decca Blue Label records." Louis Armstrong was on Decca, along with Larry Clinton, Glenn Gray, and Jimmy Lunceford. The crackle of the phonograph didn't filter out any of the kinetic excitement of these records – swing hymns like Lunceford's "White Heat" and Armstrong's "When the Saints Go Marching In". It was my first exposure to this kind of music. I was addicted.
After graduating from Boston University in 1950, Wein opened a jazz club in Boston called Storyville, named after New Orleans' red light district, often cited as the birthplace of jazz. In my book, Mulligan described Storyville as "a great club. It was a very chic dinner restaurant on the first floor. Then, downstairs in this hotel, there was another room, smaller like a living room. . . There he had traditional groups. We were playing upstairs, and maybe downstairs there would be Jimmy McPartland and Vic Dickenson, and Pee Wee Russell. You would meet all these wonderful guys and we would have a great time at the place.
The success of Storyville caught the attention of Newport socialite Elaine Lorillard, who contacted Wein about a jazz festival production, which she and her husband, tobacco mogul, Louis Lorillard, would finance. It became the first Newport Jazz Festival, in 1954. It was not a financial success, but the response was very positive; and it became an annual Newport ritual until the riots of 1960 forced its cancellation in 1961, although it resurfaced in 1962. The Festival moved to New York in 1971 but returned to Newport in 1981. In 2007, Wein sold his company Festival Productions to Shoreline Media, remaining with the new company, Festival Network LLC. In 2016, Wein stepped down as artistic director of the Festival, handing over the reins to bassist Christian McBride. He played piano at the 2019 Festival, but did not attend this year's event, citing his advanced age.
Wein also founded the Newport Folk Festival in 1959, which may be best remembered for the appearance of Bob Dylan in 1965 when, to the dismay of the crowd, he played an electric rather than an acoustic guitar.
In 1976, Wein collaborated with New Jersey Jazz Society President Jack Stine to present concerts at the Waterloo Village in Stanhope, NJ, as part of the Newport Jazz Festival in New York. "New Jersey's invasion by the Newport Festival," wrote The New York Times'John S. Wilson, "was inspired by another New Jersey Jazz Society event, the annual Pee Wee Russell Memorial Stomp, which takes place each February at the Martinsville Inn in Martinsville. Each year at the Stomp, the Society presents awards. plaques of recognition to two people – a musician and a non-musician – whose jazz activities are considered exceptional. Last February, the non-musician's plaque was sent to Mr. Wein. And, when the Newport producer Jazz Festival arrived at the Martinsville Inn that afternoon, he found the place so packed with fans listening to New Jersey jazz bands that he struggled to get in.
Wein told Wilson he was "stunned. There were 900 people in a truck stop on a rainy Sunday afternoon in the dead of winter. It must have some meaning. Among those who participated in the first Waterloo / Newport program were the Count Basie Orchestra; pianists Eubie Blake, Dick Wellstood and Earl 'Fatha' Hines; and guitarist Bucky Pizzarelli. After the return of the NJF to Newport, the NJJS Waterloo Festival continued until 1994.
Although Wein has at times been criticized for making the NJF too commercial or having acts too far removed from pure jazz, he is credited with creating the genre of jazz festivals as we know it today. And, he has received countless honors: National Endowment for the Arts Jazz Master; the Legion of Honor and the Commander of the Order of Arts and Letters of the government of France; member of the advisory committee of the board of directors of the Jazz Foundation of America; Honorary Life Director of Carnegie Hall; and Trustees Award for Lifetime Achievement from the Recording Academy. At the latter event, in 2015, rapper and actor LL Cool J introduced him by saying, "More than anyone, George set the stage for what today's big festivals look like."
In addition to his career as a jazz entrepreneur, Wein continued to play the piano as the frontman of the group called the Newport All-Stars, whose staff were constantly changing. In 1967, for example, the members were tenor saxophonist Bud Freeman, clarinetist Pee Wee Russell, trumpeter Ruby Braff, bassist Jack Lesberg and drummer Don Lamond. At the 2013 NJPAC event, he was joined by saxophonist / flautist Lew Tabackin, guitarist Bucky Pizzarelli, trumpeter Bria Skonberg, bassist Jay Leonhart and drummer Clarence Penn.
Remembering that night, Tabackin said Jazz Jersey that Wein, "has opened up many opportunities for me, too many to notice. I remember vividly, after playing a set at the Nice Festival around 1983 as a member of the Freddie Hubbard All-Stars, I was supposed to join George and the Newport Festival All-Stars. I never played much in this (traditional) idiom, although I knew some of them. It was a joy, reaffirming my idea of ​​the continuity and inclusiveness of the great jazz tradition. "
Guitarist Howard Alden, who has performed with the All-Stars often, posted a tribute to Wein on Facebook. "George was such an important part of the jazz world," he wrote. "It's hard to imagine a jazz / festival scene without him. During my 30 years of association with him, I have been able to play with people and in places that I never would have imagined. . . The most fun was seeing how much George enjoyed being on the road and making music with the players he loved.
On November 20, as part of the TD James Moody Jazz Festival, NJPAC will present "A Celebration of George Wein with Anat Cohen and the Newport All-Stars". Tabackin, McBride, pianist Kenny Barron, trumpeter Randy Brecker, drummer Lewis Nash, bassist Peter Washington and vocal group Duchess will join clarinetist / saxophonist Cohen. After performing with the Newport All-Stars at the 2014 Festival, Cohen told The Associated Press, "People know George as a producer, thinker and entrepreneur. And then there is the little boy who plays the piano. When the music feels right and he's really rocking the piano, there's such a look of joy on his face at the end of a solo. It is good for everyone. "
Schreiber of NJPAC was a protégé of Wein, having worked for him for about 10 years. "Not a day goes by, he said at the 2013 event, that I don't think of George Wein. Wein was questioned on this occasion about the future of jazz, and he tried to put it in its proper perspective. "If you ask 100 people about jazz," he said, "three of them will say they're interested in it. That's okay, he added, pointing out that there were around 300 million people in the United States. So having an audience of 3%, or nine million, he added, is not so bad.
Advertise with New Jersey Stage for $ 50 to $ 100 per month, click here for more information
---
Wein's wife, Joyce, died in 2005; there were no immediate survivors.
The New Jersey Jazz Society is a non-profit organization of business and professional people, musicians, teachers, students and listeners working together to advance jazz music. Their mission is to promote and preserve America's original art form – jazz. The Company seeks to ensure the continuity of the art form of jazz through its commitment to nurturing and championing local talent, as well as showcasing outstanding national and international artists aimed at the younger generation through education programs. artistic.
---
Sanford writes for the New Jersey Jazz Society (NJJS) – a non-profit organization of business and professional people, musicians, teachers, students and listeners working together to advance jazz music.
---