Jazz re:freshed will release a vinyl-only live jazz album feat. Rising UK stars Theon Cross + Camilla George and more, recorded at Abbey Road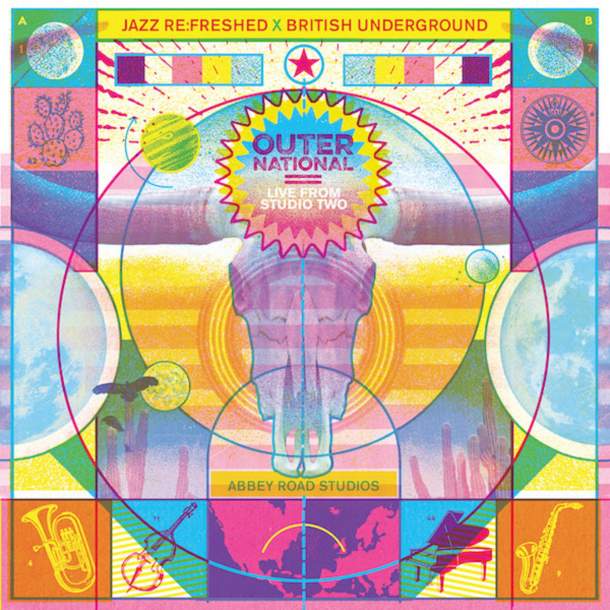 Today British Underground and Jazz re: refreshed announced the release of 'Outernational Live from Studio Two Abbey Road', a one-off live LP featuring new stars of British jazz recorded at the famed Abbey Road Studios during the 2021 winter lockdown. The tracks were originally planned for a covid-friendly filmed show hosted by the South by Southwest (SXSW) music festival in March of that year following a series of groundbreaking live showcases at the Austin event since 2017.
Featuring rising British jazz stars Doom Cannon, Camilla George, Richard Spaven, Theon Cross, Noya Rao, Daniel Casimir and Tess Hirst, it will be released on vinyl only on September 2 via the Jazz re:freshed label. Previous artists from these internationally acclaimed showcases include Shabaka Hutchings, Nubya Garci, Ezra Collective and Moses Boyd with this special edition LP highlighting the best of the next wave.
The album is only available on vinyl – limited to 500 copies and can be purchased from the jazz band's re:fresh camp site and in limited stores worldwide from September 2. To order a copy visit: https://jazzrefreshed.bandcamp.com/album/outernational-live-from-studio-two-abbey-road-vinyl-only
Theon Cross said:The JRF/BU Outernational showcase for SXSW filmed and recorded at Abbey Road in February 2021 was very special. It was one of the first times since the start of the pandemic that we were able to play together and make music for an audience when they weren't in the room. We really hit the nail on the head with Panda Village, a track from my album FYAH channeling all the joy and emotion of this cathartic moment.."
Jazz Re:freshed has also confirmed that it will be returning to SXSW in 2023 for another historic showcase, with more details to follow.
List of tracks:
DoomCannon – That Too
Camilla George – Ekpé
Richard Spaven – Helsinki Trio
Théon Cross – Panda Village
Noya Rao – Red
Daniel Casimir & Tess Hirst – These Days