Jim Kilburn, jazz musician, has passed away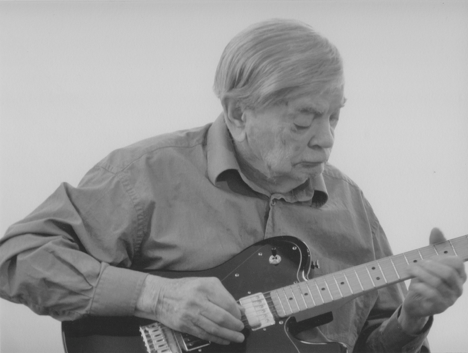 Jim Kilburn arrived in Steveston in 1930 with his mother's family, the Spargos, who settled here and still have roots in the community.
A well-respected Canadian jazz musician who grew up in Richmond has passed away at the age of 94.
Jim Kilburn arrived in Steveston in 1930 with his mother's family, the Spargos, who settled here and still have roots in the community.
According to one of his relatives, Bob Ransford, himself a resident of Steveston, Kilburn "has become a renowned jazz musician" and he and his late wife, Joyce, raised their son, Rick, in Richmond.
Ransford said Rick, who was educated at Palmer Jr High School and graduated from Richmond High, studied at Berklee College of Music in Boston and "spent many years as a jazz musician in New York City and is today producer and sound engineer living at Qualicum Beach.
Jazz guitarist Kilburn is said to have passed away peacefully on Saturday, November 13 at his home in Qualicum Beach.
Described as "Husband, Father, Music Mentor, Fly Fishing and Entomology Writer, Master Fly Taker, Illustrator, Draftsman, Electrical Technician, Founding Member of the Totem Fly Fishers and President of the first Cellar Jazz Club in Vancouver , "Kilburn was born in Winnipeg, Manitoba.
He grew up in Steveston with the Italian side of his family and it was his uncles' love for music that inspired him to play guitar.
Kilburn's years as president of Cellar, Vancouver's premier underground jazz club, brought him to rub shoulders with the world's best jazz musicians, and he became a close friend of musicians like Wes Montgomery and his brothers, Howard Roberts, Don Cherry, Ernestine Anderson, Scott LaFaro and many more.
In 1951, however, he landed a job as an electrician at Vancouver City Hall, where he apparently rewrote the City of Vancouver electrical code, designed traffic and street light systems for Expo '86 and came out of retirement to help solve a myriad of electrical problems. problems related to the construction of the new Cambie Street bridge.
One of Kilburn's superiors at Town Hall said at his retirement that "Everyone should take a page from Jim Kilburn's work ethic example."
According to his family, Kilburn would play guitar at The Cellar jazz club until six in the morning, then go fishing.
An anecdote from this period concerned Kilburn and Don Cherry, who had been playing Cellar all night and going to Chilliwack to fish in the Vedder River.
Kilburn apparently fished while Cherry played her pocket trumpet. A soldier from the nearby military camp was passing by and asked what they were doing.
It was explained to him that Kilburn was fishing and Cherry was hypnotizing the fish with her trumpet.
According to his family, such stories were "a dime at legendary parties and jazz sessions" at 811 Francis Road in Richmond, the first house designed and built by Kilburn.
There will be a celebration of Kilburn's life at the family home in the summer of 2022. Updates will be posted at https://rickkilburn.net/.