Jim Shearer, Jazz Trio have world premiere concerts in November at NMSU, UTEP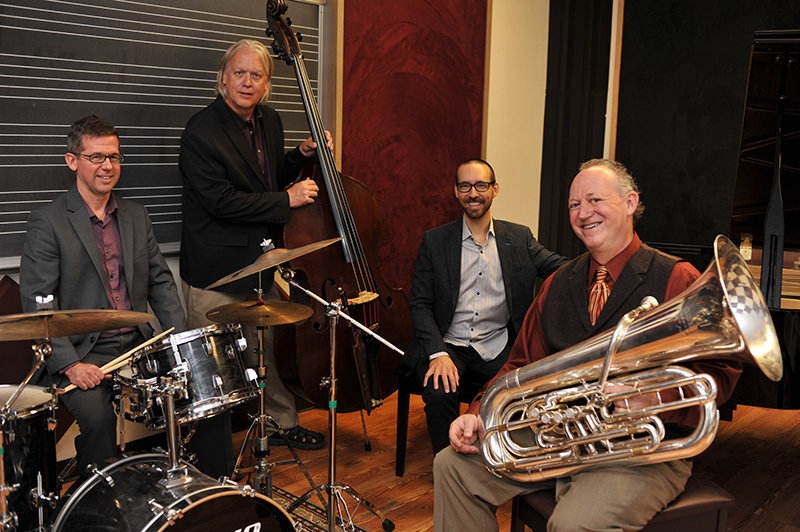 Newscast
NMSU Regents professor and tubist Jim Shearer will present a world premiere of a new work for tuba and jazz trio called "Cloud Bowling," written by UTEP composer and pianist Chris Reyman. The show will also feature Shearer performing (on tuba) the "Suite for Flute and Jazz Piano Trio" by acclaimed classical / jazz crossover composer Claude Bolling.
Free concerts will be held at 7:30 p.m. on Friday, November 5 in the Atkinson Recital Hall inside the NMSU Music Center, 1075 N. Horseshoe St. on the NMSU campus; and at 7:30 p.m. on Tuesday, November 9, at the Fox Fine Arts Recital Hall, 500 W. University Ave., on the UTEP campus.
UTEP faculty members Erik Unsworth on bass and Andy Smith on percussion will join Reyman in the jazz trio accompanying Shearer.
Bolling wrote his famous sequel for Jean-Pierre Rampal in 1973, and their subsequent recording of this work spent more than 10 years on Billboard's Top 40 Classics, Shearer said. Bolling followed this work with a series of other successful jazz / classical collaborations, but never an original composition for the tuba.
Shearer began learning tuba flute work during his college days in the mid-1980s, and this performance will mark the culmination of a lifelong dream of performing and recording the entire work on his. instrument of choice, he said.
Drawing inspiration from Bolling's sequel, Reyman's "Cloud Bowling" composition is made up of seven movements that blend jazz and classical styles and performance practices, Shearer said.
"The composition contains references to founding jazz composers, as well as a more progressive approach to composition with plenty of room for improvisation for each performer," said Shearer.
Following this series of live performances, the musicians will record the two works for release on Summit Records for a CD project they will call "Cloud Bowling with Claude Bolling".
For more information about the concert, contact the NMSU Music Department at 575-646-2601.
Visit music.nmsu.edu.