Journey Through Jazz Series by music legend Wynton Marsalis at the Lincon Center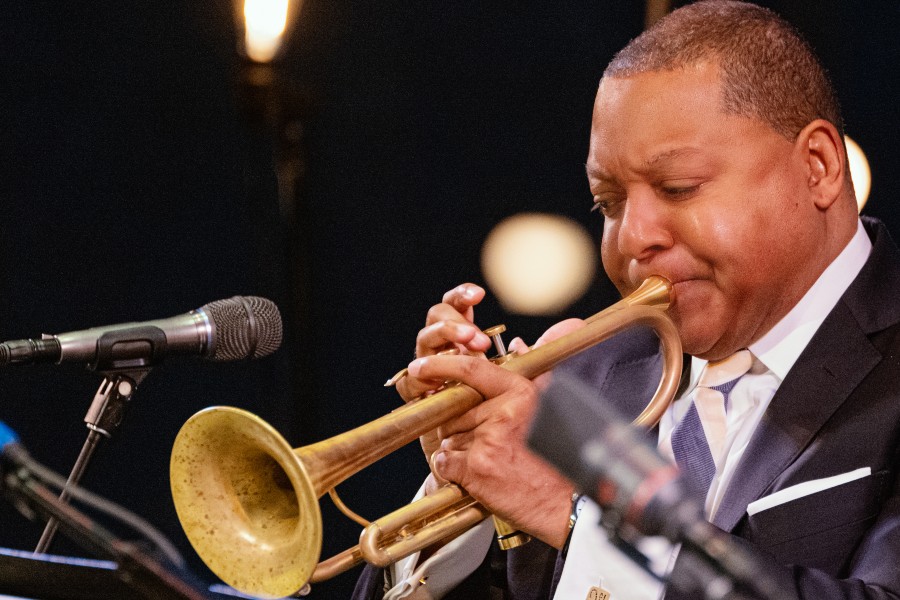 Jazz at Lincoln Center presents the second season of its Journey Through Jazz series.
Journey Through Jazz Series tackles the fundamentals of jazz, folk, blues and swing, created and hosted by Wynton Marsalis. An interactive, educational and family-friendly experience, Marsalis guides audiences through the evolution of jazz and blues in America with its own wisdom and humor, paired with the music of the Jazz at Lincoln Center Orchestra (JLCO).
Journey Through Jazz Part II November 17-19 at 7:00 p.m. and 9:30 p.m. ET, takes place in the Appel Room of Frederick P. Rose Hall, home of Jazz at Lincoln Center, located on Broadway at 60th Street in New York City , New York.
Throughout the series, the JLCO with Wynton Marsalis focuses on and illuminates a theme with musical examples. The two 2022-23 concerts approach the theme of community from different angles. The first concert explores the attributes that allow jazz, America's native music, to intersect so easily and create communal bonds with diverse musical forms and cultures, empowering those who fully commit to it. Audiences will also gain a better understanding of jazz and music legends such as Duke Ellington of Harlem, Dave Brubeck and Leonard Bernstein, Wayne Shorter and Jelly Roll Morton. The second, Jazz Chronicles: Old and New (February 16-18, 2023), traces the oral tradition of jazz, the stories that give the community of practitioners living in the here and now, authority over the narrative of the development of music and traditions.
For more information and to purchase tickets for Journey Through Jazz Part II, go here and for Journey Through Jazz Part III, go here.
Health and Safety instructions
We believe in the power of music to uplift, inspire and create a sense of community and are committed to taking all measures to ensure your safety and the safety of our artists and staff when visiting or working in the House of Swing.
Important reminders:
Face masks are not required, but recommended for performances at Jazz at Lincoln Center. Jazz at Lincoln Center will no longer require proof of vaccinations or boosters to enter its facilities.
For more information on our health and safety protocols, please visit here
Aware of the great uncertainty created by the current health situation, we have expanded our exchange and refund policy to be as flexible and accommodating as possible. Find more details here.
live jazz
Jazz Live is Jazz at Lincoln Center's video streaming app, which provides exclusive access to the institution's live webcasts, a selection of archival performances, and all of the world-class original digital content that Jazz at Lincoln Center is renamed. The Jazz Live app is now available from Apple (iOS/tvOS), Google (Android/Android TV), Amazon Fire TV and Roku. For more information and to subscribe, visit jazzlive.com.
Tickets
Ticket prices for the Appel Room are $40 and up depending on the seating section.
---
Note: Hot Seats: $10 for each Rose Theater performance (excluding Jazz for young people® and other specified performances) and certain performances in The Appel Room – are available for purchase by the general public on the Wednesday before each performance. Tickets are subject to availability; please call 212-258-9877 for available Hot Seats performance dates.
Hot Seats are only available in person at the box office, with a maximum of two tickets per person. The Jazz at Lincoln Center Hot Seats ticket discount program is supported by the New York City Department of Cultural Affairs in partnership with the City Council.
*Please note that a Jazz at Lincoln Center facility fee of $3.50 applies to ALL ticket purchases except $10 Hot Seats. A $7 processing fee also applies when purchasing tickets from CenterCharge or when purchasing tickets online through jazz.org.
All single tickets for The Appel Room and Rose Theater can be purchased through jazz.org 24 hours a day or through CenterCharge at 212-721-6500, open daily from 10:00 a.m. to 9:00 p.m. Tickets can also be purchased at the Jazz at Lincoln Center Box Office, located on Broadway at 60th Street, ground floor.
Ticket office hours:
Monday-Friday: 1:00 p.m. – 5:00 p.m.
No hours on weekends except on performance days.
Center charging hours:
Monday-Saturday: 10 a.m. – 8 p.m., Sunday: 12 p.m. – 6 p.m.
Every ticket purchase helps support Jazz at Lincoln Center, to learn more about becoming a member, visit jazz.org/membership, additional information can be found at jazz.org.
Facebook: facebook.com/jazzatlincolncenter, Twitter: @jazzdotorg, Instagram: @jazzdotorg, YouTube: youtube.com/jalc, Live Stream: jazz.org/live
Jazz at Lincoln Center's mission is to entertain, enrich and expand a global jazz community through performance, education and advocacy. We think jazz is a metaphor for democracy. Because jazz is improvisational, it celebrates personal freedom and encourages individual expression.
Because jazz is swing, it devotes this freedom to finding and maintaining common ground with others. Because jazz is rooted in the blues, it inspires us to face adversity with persistent optimism.
Photo credit: Lawrence Sumulong for Jazz at Lincoln Center.
Related Articles
---
VIDEO

---
"We re-imagine, recreate and redeem cultural omissions and misrepresentations of blackness, for culture…." This post is made in Partnership with British pathe.