Let's cello-brate! Block String Camp Faculty Highlight Music Festival – 32963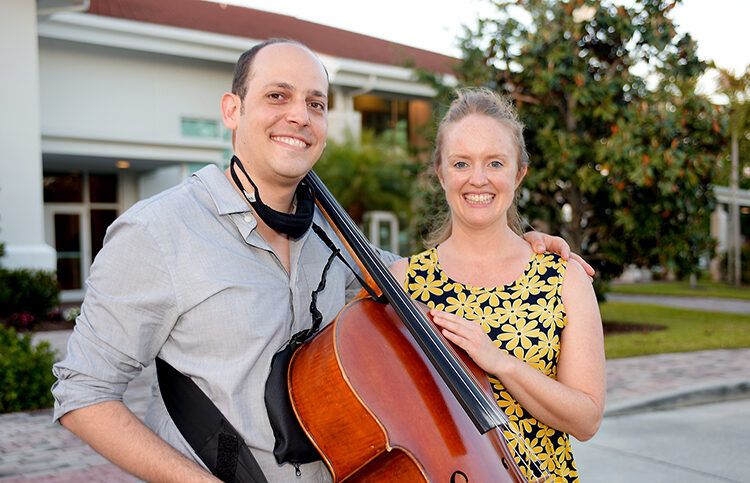 Music lovers who appreciate the heart-pounding excitement of American, Celtic, Brazilian, folk, bluegrass, jazz, pop and rock music will be delighted with another treat as world-renowned artists perform at the upcoming Vero International Music Festival. Beach, which takes place July 4-9 at First Presbyterian Church in Vero Beach, concurrent with Mike Block String Camp.
"We are very excited for our first in-person camp since 2019. It will be very special to be together and share music with the community again," said Grammy-winning cellist Mike Block, who founded the camp in 2010.
Although Block and his equally talented wife Hanneke Cassel, an award-winning fiddler, fiddler and composer, gave fans a gig when they arrived in town in April, camps have been held online in 2020 and 2021.
There are 14 teachers this year, including Block, and about 70 participants. This is a little less than in previous years due to the uncertainties linked to the pandemic, as professors and students come from all over the world. This year, students come primarily from across the country, with only about a quarter from Florida, joined by others from Spain, Germany, Portugal, Canada and Mexico. About a third are new to the camp.
"Historically it was for the string community. So, tilt string players, like violin, viola, cello, and bass, then choose string players, like guitar, mandolin, and banjo.
But we even had trumpeters, horn players, pianists and electric guitarists," says Block. "The teachers play a variety of string instruments as well as percussion, and we always have a vocal component. We have a lot of singing lessons this year because many of our teachers also sing original songs.
The program has evolved into what is essentially two overlapping camps.
Block explains that students of all levels and ages are enrolled in the collaborative track, where they break into student-led collaborative groups. Supervised by the faculty, they create arrangements and choose the pieces to play while preparing for the final performance on Saturday evening.
Students in the advanced apprenticeship stream are generally often semi-professionals and students. A faculty member leads these groups, choosing arrangements and musical pieces.
"They play with the faculty member rather than having a more collaborative experience with the other students," says Block.
The concerts on Wednesday and Friday evenings highlight the remarkable and varied talents of the faculty. A handful of faculty-led learner groups are also featured on these nights. The Saturday concert is mostly made up of students from the collaborative track, sometimes accompanied by faculty members. All concerts are free and open to the public.
"Basically, the concerts are for anyone interested in fun and collaborative musical experiences. There is a great festival atmosphere for all the musicians involved. It's not like we're on tour every night, so it's a really special gathering, once a year for us too," Block says.
"And so, I think audiences are going to really appreciate the fun that everyone is having on stage and the amount of diversity that comes with the range of performers."
A Juilliard-trained multi-style cellist, singer, composer, recording artist, and educator, Block has performed with Yo-Yo Ma's Silk Road Ensemble and is the director of the Silk Road Global Musician Workshop, a Boston-based training program. .
Always creative, Block designed the Block Strap which, eliminating the need for a chair, allows cellists to move freely – anywhere. Block showed off his quirky side through a series of "Bach in the Bathroom" videos (bachinthebathroom.com).
He plays in acoustic resonance concert halls around the world, including Lincoln Center, New England Conservatory, Kennedy Center for the Performing Arts, Sydney Opera House, Xinghai Concert Hall in China and Seoul. Arts Center in the South. Korea.
One of many returning teachers, Cassel has competed, performed and taught around the world, dynamically blending influences from contemporary and traditional Scottish, Nova Scotian and American styles. The Boston Globe describes his music as "exuberant and rhythmic, somehow wild and innocent, delivered with captivating melodic clarity and irresistible playfulness".
"We are very happy to have Curtis Stewart, who is new to camp. He's a very brilliant classical and jazz musician based in New York," says Block.
A violinist and fiddler, Stewart has performed in his eclectic career with Stevie Wonder and Bruce Springsteen at Madison Square Garden, the Jimmy Heath Big Band at the Kennedy Center, and as a classical soloist at Lincoln Center and Carnegie Hall. His solo violin album, "Of Power", was nominated for a Grammy for Best Classical Instrument Solo.
"He works as a professor at Juilliard and he conducts a string quartet called the Publiquartet," Block explains. "So he's just a really special musician, because he comes from a classical background, but he's just a committed improviser and composer and kind of a multi-style creative person."
Another innovative multi-instrumentalist, Joe Troop taught his latingrass style at last year's online camp, but this will be his first time teaching Vero.
"He is the leader of a string band called Che Apalache, based in Buenos Aires. They're a cool fusion band that mixes music from Colombia and North Carolina, and so they bring a special mix of American bluegrass and Latin American folk music," says Block.
Other teachers this year:
Two-time Grand National Violin Champion Kimber Ludiker is the founding member of the Grammy-nominated, all-female string band Della Mae, which performs nationwide.
Violinist Trina Basu, who draws on Western and Indian traditions of classical, jazz and creative improvisation, co-leads the folk chamber ensemble raga Karavika.
Grammy Award-winning violinist Zach Brock, described by the Chicago Tribune as "the brightest hope for violin jazz," brings his unique combination of contemporary jazz, classical and popular music to camp.
Cellist Natalie Haas, a Juilliard graduate and associate professor at Berklee College of Music in Boston, has fascinated audiences around the world for more than 20 years in concert with Scottish fiddler Alasdair Frasier and as a member of the Appalachia Waltz Trio.
Grammy-nominated violinist Casey Driessen, described as "a mad scientist with a five-string fiddle," collaborated to publish the Chop Notation Project, a free resource on chopping, a percussive bowing technique with bowed strings .
Versatile violinist Arun Ramamurthy, one of India's leading classical and crossover musicians, and co-founder of the Brooklyn Raga Massive, musicians inspired by the classical music of India, teaches Indian music, performance, technique and theory.
Joe Walsh, a bluegrass mandolin player and songwriter who seeks to "create new music from old roots," was the first Berklee College of Music graduate on the instrument and is now on the faculty of the 'school.
Viola/violinist Lauren Rioux expertly leads classes and workshops around the world with an innovative curriculum and teaching style. She has toured the United States and Europe with other MBSC teachers, including Brittany Hass.
Taylor Morris, a collaborative musician known for "blurring the line between fiddle and fiddle," has toured as one of five fiddlers with Barrage, a Canadian-based troupe, and with Tricia and Taylor, a " violin/genre violin duet". with concert violist Tricia Park.
Colin Cotter, multi-instrumentalist and songwriter, grew up with a family tradition in Finnish fiddle music, before eventually delving into Scottish and Irish fiddle. A self-taught guitarist, he mixes a wide range of influences across the musical spectrum.
The two faculty-led concerts take place on Wednesday, July 6 and Friday, July 8. The student concert on Saturday July 9 is followed by a barn dance with a live band. Performances begin at 7:30 p.m. at the First Presbyterian Church in Vero Beach. Concerts are free, although donations to the Mike Block String Camp Scholarship Fund are appreciated.
For more information, visit veroeachinternationalmusicfestival.com.
Photos by Brenda Ahearn and provided