Muskogee's Okie: A lifetime of music brought Hannah home | Lifestyles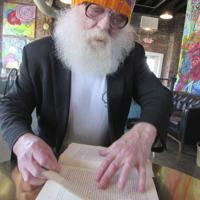 Jack Hannah's life has been filled with change, though his music has remained constant.
Hannah remembers playing drums at age 2 and playing piano until sixth grade.
"When I got to sixth grade, I said, 'Can I move on to trumpet,'" Hannah said.
He recalled using his musical talents at a "civil rights" rally at Muskogee Central High School.
After high school, Hannah switched to bass after going to the Rubiot Jazz Club in Tulsa and being inspired by the bassist. He jammed with Muskogee native Chick Rains, who went on to write songs for Reba McEntire and Michael Martin Murphy.
Hannah developed her art at the University of North Texas and tried out at the Navy School of Music.
"I had to go to bootcamp," he said. "I was peeling potatoes when I heard over the intercom that the president had been shot during a parade in Dallas."
From 1973 to 1976, Hannah toured with jazz pianist and singer Mose Allison.
Over the years, Hannah's music has taken her to New York, Chicago and Kansas City. He lived in Los Angeles several times and recalled playing in the late 1960s at the Ambassador Hotel, where Senator Robert Kennedy was assassinated.
He remembers playing "with some really amazing players from Dixieland to Milwaukee."
"I got to where I made peace with Dixieland, even if it wasn't intellectual," he said. "Jazz peaked where everything was in the '60s. You had Jimi Hendrix and rockers. You had jazzmen – all kinds of jazzmen. You had civil rights mixed with jazz."
The first days of
music in Muskogee
Jack Hannah's first gigs were with his father's Dixieland band.
"He had a Shrine Dixieland band. We were playing at the Shrine Auditorium," Hannah said. "I was in fifth grade. Everyone else was like Charlie Parker, who ran theaters, Jack White, who sold insurance."
He said other musicians played more modern music than his father.
"But it was my father who stayed the course," he said. "We never got paid, so I didn't turn pro until ninth grade."
Hannah said his first paid gig was when he was in ninth grade, playing Meadowbrook Country Club. He said he was in middle school, preparing to go to Muskogee Central High.
"I thought I was in heaven, because it was the first time I got paid to play music," he recalls. "And I said, 'This is what I want to be.'"
He remembers playing music with Leonard Howard, who owned a camera store.
"I switched from trumpet to bass after high school, and that's where I met Chick Rains," Hannah said. "Somehow he knew I had moved on to bass and he wanted me to play with him at Spaulding Park. We did. It went really well, and we're so went to Tulsa. It was right out of high school. That, I never saw Chick again."
meet the man
whose song he sang
Hannah remembers the first song he ever sang. Years later, he met the man who wrote it.
The song, "Cement Mixer," was written by jazz singer Bulee "Slim" Gaillard, known for his comedic vocals.
He said he started singing it when he was 2 years old, "beating on a drum my grandparents bought me".
"I started beating that drum and walking around the house singing 'Cement Mixer! Put-ti, Put-ti! Cement Mixer! Put-ti, put-ti," Hannah said.
Years later, Hannah experienced what he called "a bit of deja vu" while living and performing in Los Angeles.
"Slim Gaillard calls me and asks me if I wanted to do a gig at a men's club," Hannah said. "I saw him sitting at a piano, and he started to play."
"People there were pretty rich because it was Bel Air right next to Beverly Hills, and they were asking for 'Shadow of your Smile,'" Hannah said. "He was starting to play the blues. And he wasn't the piano player."
However, Hannah said he never had time to tell Gaillard that he sang "Cement Mixer" when he was 2 years old.
"I thought it was pretty significant," Hannah said. "The first song I sang was his."
A career in
jazz world
Over the years, Hannah's music has taken her all over the United States. Well, except for Hawaii, Alaska, North Dakota, Maine and South Carolina, he said.
After high school, Hannah went to the University of North Texas, long considered a leader in jazz education. He made the prestigious One O'Clock Lab Band.
"The second year, everything was going to change," he said. "They wanted me to play electric bass and double bass. I didn't know how to play electric. I tried, but I couldn't. I liked the double bass, and it was my instrument. ."
After UNT and time in the Navy, Hannah moved to Los Angeles.
"It was the start of a great era," he said. "I lived there for four years. LA is kind of a universe. When I came to LA, they liked my game, they liked my personality. I found a home."
Hannah remembers spending three years playing with jazz pianist Mose Allison after meeting him in Kansas City, Missouri. Hannah performed on Allison's "Your Mind is on Vacation" in 1976.
Q&A
HOW DID YOU COME TO BE A MUSKOGEE OKIE?
"My mother brought me here to the hospital. It was in 1944. Primary school started in 1950. Primary school lasted six years."
WHAT DO YOU LOVE MOST ABOUT MUSKOGEE?
"I had three different couples, when I had breakfast the first time was Harmony House. Then the same thing happened with another couple of ladies at Harmony House, the waitress told Jack that they bought your lunch. Today a man bought my breakfast at IHOP. …
"It's a pretty generous attitude that shows some people in this town are really nice people."
WHAT MAKES MUSKOGEE A BETTER PLACE TO LIVE?
"They keep barking up the wrong tree when they keep talking about we need to make Muskogee more fashionable. They tried to be fashionable. I think the emphasis should be on getting out from here, which I did, and now I'm back, and I'm much better as a musician because I went to the upstate of Texas."
"To make Muskogee better, like Taoism, don't try so hard, just be in the moment. How do you tell someone to do that? They have to find their own way of being in the moment."
WHICH MUSKOGEE PERSON DO YOU ADMIRE THE MOST?
"John Rigney, a bass player in Tulsa, I was going to his house and taking bass lessons and all these interesting people were coming by. I just got into the whole jazz scene and everything that revolves around jazz."
WHAT IS THE MOST MEMORABLE THING THAT HAPPENS TO YOU AT MUSKOGEE?
"I went to manual training, I brought four brothers to Central High School. We set up without anyone's permission. We set up in front of the stage before a play and we were playing Miles Davis. I was a junior, I had one year left in high school."
WHAT DO YOU DO IN YOUR FREE TIME?
"I don't consider time to be available. Like hobbies – 'oh, I'm going to go do my hobbies. "
HOW WILL YOU SUMMARY MUSKOGEE IN 25 WORDS OR LESS?
"I don't think I can do that. It's not that simple. I don't know if I can describe it, but I'll say I like it now."
MEET Jack Hannah.
AGE: 77 years old.
HOMETOWN: Muskogee.
EDUCATION: Longfellow Elementary School; West Junior High School; Central Muskogee High School, 1962; University of North Texas, 1967-69.
OCCUPATION: Musician. Bass player.
FAMILY: One son.
RELIGIOUS AFFILIATION: "Oriental. Buddhism brought me into Taoism."
HOBBIES: "I don't have time for hobbies. I never think like that. I read."