Pascuala Ilabaca at the 2022 Montreal International Jazz Festival Approve from the stage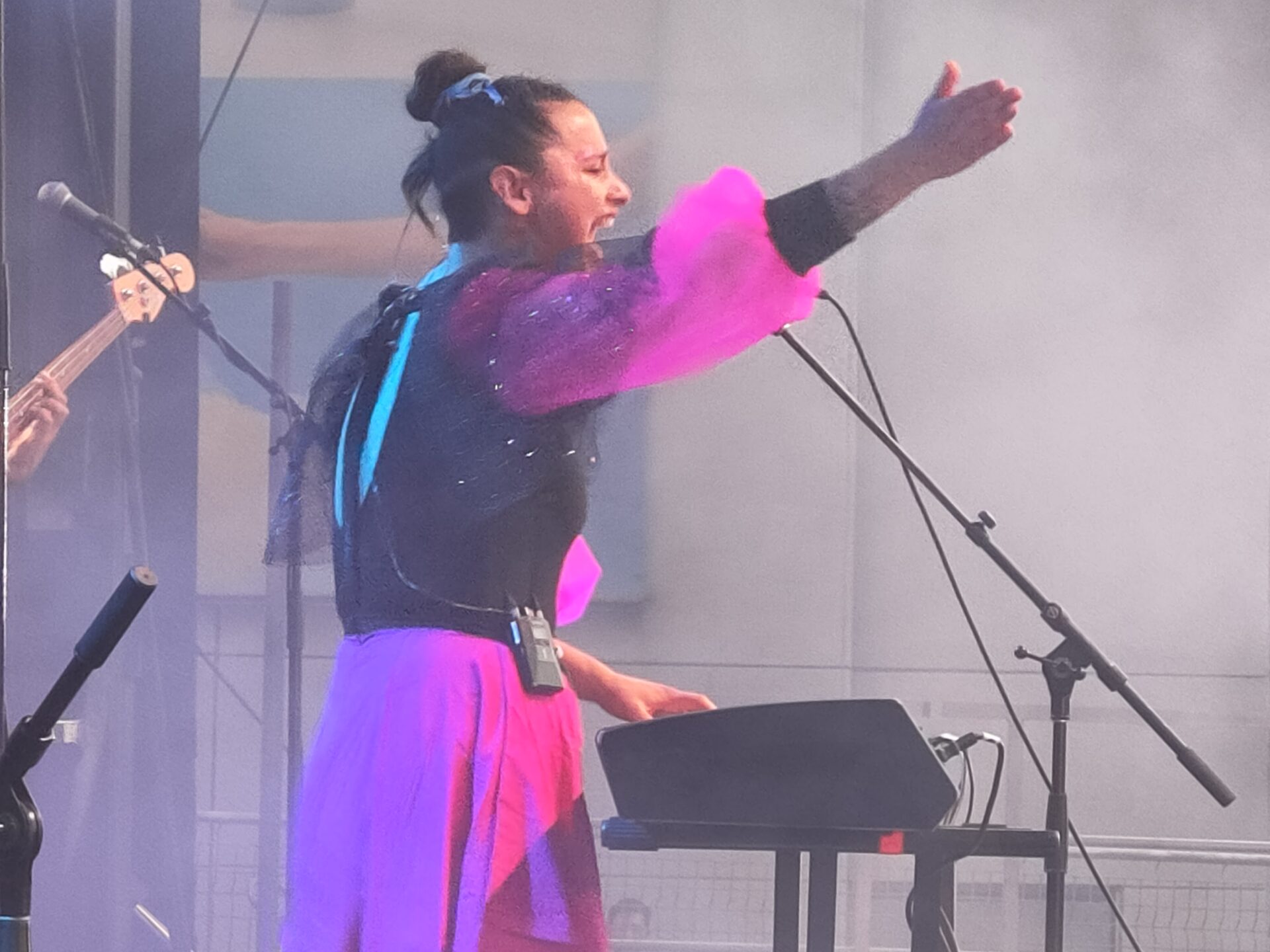 "As a people, we have written the first political Constitution in the world written on gender parity, and this proposal also recognizes us as an inclusive country, which is a hope for all the dissidents in our country. It's a new Constitution that recognizes us as an ecological country, that's what we need to put an end to all this wild extractivism that we suffer from, and we also recognize ourselves as a plurination, which is also very necessary for start to relate better with the indigenous peoples, because it is a debt that Chile has historically had".
In front of thousands of people, but especially in front of hundreds of Chileans present on the esplanade of Place des Arts in the heart of Montreal, Quebec, Canada, the Chilean singer and songwriter Pascuala Ilabaca, accompanied by her ensemble, called to vote Apruebo in the exit plebiscite that this September 4 will condemn at the polls the proposal for a new constitution for Chile.
In this audiovisual interview, conducted during one of the artist's performances at the 42nd edition of the Montreal International Jazz Festival, Pascuala Ilabaca, acclaimed by a massive, diverse, multicultural and enthusiastic audience, recounts the emotion and the reasons who motivated her to bring to the stage a piece of "the social explosion of Chile", generating in the midst of a musical performance as impeccable as it was vibrant with creativity, a space of intense bonding with the hundreds of Chileans who attended at his concert.
It should be noted that after the breaks due to the pandemic, the live return of this famous festival was eagerly awaited by fans all over the planet, which is why special attention was paid to its programming. In total, more than 350 concerts presented by artists from Canada and elsewhere, 2/3 of which were free, took place from June 30 to July 9. In fact, Guinness World Records named the Montreal International Jazz Festival the biggest jazz festival on the planet. Every summer, in June and July, more than 3,000 musicians and artists from 30 countries give nearly 1,000 concerts.
Many jazz greats have graced the Place des Arts stage, including legends such as Dave Brubeck, Miles Davis, Ella Fitzgerald, Paco de Lucia, Ray Charles, BB King, Diana Krall, Oliver Jones, Wynton Marsalis and Chick Corea. there and enjoying the talent of Pascuala Ilabaca and his ensemble of Chilean musicians was doubly exciting.
However, to hear the whole audience, people from all over the world, as well as Canadians, chanting "the united people will never be defeated!" with the musicians led by this strong, beautiful, intense and creative artist, we shook the Chilean men and women present to the heart.