Rockland Mid-Coast Gym aims to be healthier and stronger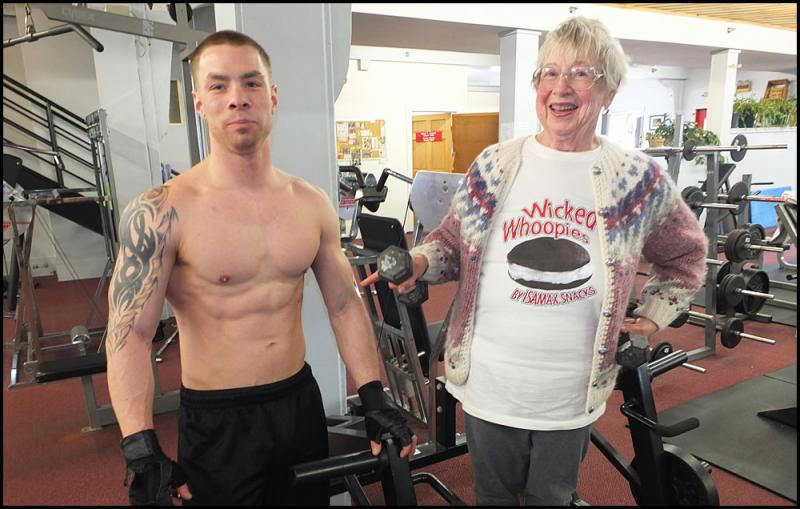 ROCKLAND – Mona Stearns owns and operates the Mid-Coast Gym at 44 Park Street in Rockland. MCG is an 8,000 square foot facility. Twenty-four years ago, Mona and her husband, along with her brother-in-law, built the Mid Coast Gym. Mona is not only the owner, but also a personal trainer and a registered nurse. She said her goal was healthy and not just skinny. Penobscot Bay Pilot spent a few minutes with Mona talking about the gym.
"It was the old FMC building," she said. "It was a grain warehouse and we bought it, renovated it and set up a gym. He has grown since then. The management has changed a bit since our beginnings. There were a lot more young people and everyone was really loud and there was a lot of testosterone. Now we have more mature members and we have a lot of women. The average age is probably 50, which is a bit older than most gyms. Our goal is to help people be healthier.
PBP: Tell us how it evolved.
"We had a lot of equipment from the start so we just updated what we have," she said. "On the ground floor we didn't add more than five rooms and of course everything is updated as needed. Our free weights start at five pounds up to 140 pounds. We have 30 pieces of strength training equipment. Our cardio equipment has been replaced more frequently because it has a different type of use. It wears out easily; everything is made of steel, and even our big bad guys over there can't tear it apart.
PBP: The average person who visits your gym, what are they looking for?
"Today is different from 24 years ago," she said. "Today, they are turning more to health. They want to lower their blood pressure, they might be pre-diabetic. I have a lot of men and women who are interested in bone density, such as osteoporosis, as a driving force. There is always the never-ending battle for size. For my younger members, many of them are fishermen and carpenters and they are looking for strength. They want to be strong at what they do.
PBP: What were they looking for 24 years ago?
"They were looking more for the look of the runway walking model and the men were looking for the big biceps and big chest look," she said. "As the gym evolved – and this could be related to the fact that I'm in my 60s now – I took the lead in the baby boom because there are more of us and it creates a bigger market. . Twenty-four years ago it was more for the looks, the way you looked on the outside. Now I think that's more of what's going on inside your body.
PBP: The big buzz today is six pack abs. Can you achieve it or do you have to be born with it?
"Genetics play a big role in this," she said. "Of my 300 to 400 members, I have probably four young men who have a six pack. If you watch them train, it's 24/7, and by that I mean everything that goes into their mouth is clean. They are impeccable in their food choices. They do at least one to two hours of cardio training a day and they work out every day. So, yes, it is achievable, but not for the mere human mortal. It is not realistic. We also have very fit women, but it is difficult for a woman to get a six pack. Dedication, discipline, constant vigilance; most people are unable to follow through on this.
PBP: For cardio fitness, how many times per week would you recommend that someone go to the gym?
"Cardio training is about your heart," she said. "The heart is probably the most important part of your body. The standards say 30 minutes three times a week. I say for a healthy heart, three to 60 minutes a day and it doesn't have to be just in the gym. When you walk your dog, walk a little faster. When you are at home, walk up and down the stairs more frequently. What you want to do is raise your heart rate, because by forcing your heart to work harder, you make it stronger. It doesn't all have to be done at once, just throughout your day at work, at home, or away from home.
PBP: As a RN how does this affect the gym and the hoe intertwined?
"I worked in the hospital's telemetry unit, which of course is reserved if you really have something bad happening to you," she said. "Something's really wrong with your heart, or a stroke. My take is that I wear two hats: if you don't take care of your body in a healthy way, you will meet me and unfortunately you will meet me in a world where you don't want to meet me. The time you invest in your heart and your health is priceless. You cannot put a price on health and as a registered nurse I have a real appreciation for the importance of your health.
PBP: Every new year you hear people saying that I'm going to go to the gym, that I'm going to take better care of myself, and two weeks later they've forgotten everything. What advice can you give someone on how to take that important first step?
"First, you need to label it as a commitment, not a resolution. A small step like having breakfast every morning, going for a walk every day. Entering a gym for the first time can be very intimidating, so what I suggest is bringing a friend. It's always nice to have an ally. My average age is 50 at the gym. Everyone says, "but they're so young in there," so I tell them to come and take a look. Be honest with yourself. Sit down and think and say how did I get to where I am today? And write it down because once you see it on paper, it makes it real. Once you see it on paper, it makes it tangible and easy to recognize. Say, for example, you put in fried food four times a week. We all know fried foods are bad for you. Well let's see if we can cut it down to three times a week for a few weeks, then two. Simple changes are easy to make. It's when you try to do them all at the same time that it makes them impossible to achieve. It's human nature and human nature says I'm fine where I am.
PBP: Say something in closing about Mid Coast Gym.
"Try us out," she smiles. "We have been around for a long time, over 20 years. The majority of my staff, my office manager Judy Tibbetts, has been here for less than six months, the same time as me. Our members are everyday people, your coworkers, your friends, your sister, they are just everyday people trying to be healthier. We've got longevity, we've got great coaches, and it's a fun place.