The high school trombonist is chosen for the jazz residency of the National Youth Orchestra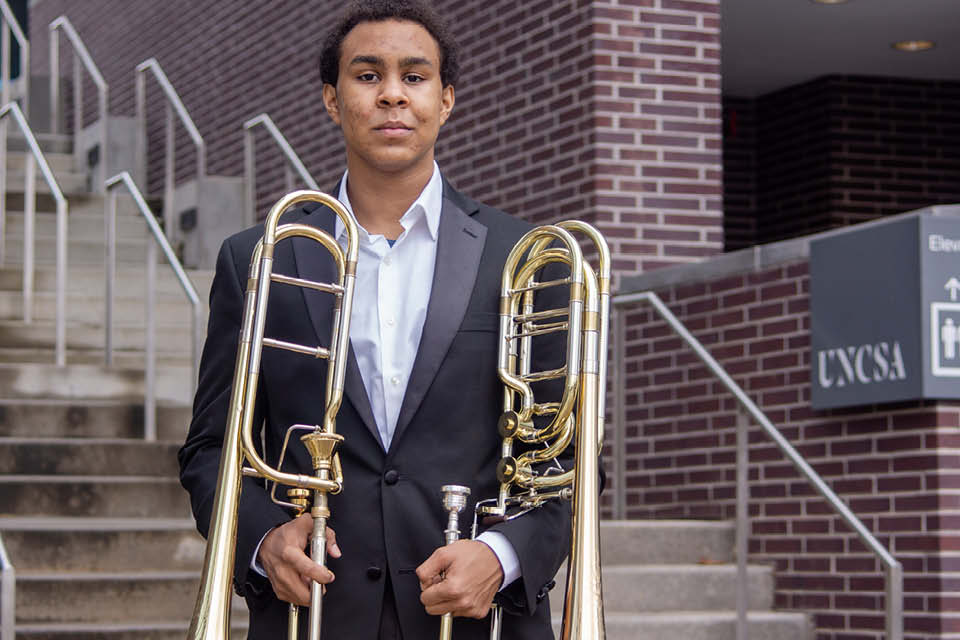 A rising high school student from the University of North Carolina School of the Arts (UNCSA) School of Music has been shortlisted for the Carnegie Hall National Youth Orchestra (NYO) Jazz Program for summer. Atlanta trombonist Darien Baldwin is one of 200 high school musicians from across the country chosen for the highly selective program.
"This is both an exceptional achievement and a tremendous opportunity for Darien to participate in a National Youth Orchestra residency," said Saxton Rose, Acting Dean of the School of Music. "It is especially remarkable for a trombonist to have achieved this level of excellence at such a young age. Studying the trombone is a unique challenge and it is rare for children to start playing the trombone at an early age. For this reason, there are very few young trombonists who reach this level of competence. We are very proud of Darien.
The jazz program, called NYO Jazz, is one of three national youth ensembles chosen through a full audition process. "The musicians selected to be part of Carnegie Hall's three national youth ensembles are some of the best players in the country," said Clive Gillinson, executive and artistic director of Carnegie Hall. "After a difficult year in which most of the young musicians were unable to perform together, we are very happy to be able to once again bring these groups together in person for an unforgettable summer of musical creation. It will be an opportunity for these wonderful young players to connect with their peers, explore music together and train with some of the best professional musicians in the country.
Baldwin, who studies with professor-artist John Ilika, will participate in the month-long in-person residency with strict health protocols in July at Purchase College at State University of New York.
A faculty of outstanding professional musicians will mentor students in full rehearsals, sections and master classes. The residency will also provide an opportunity for young musicians to collaborate with each other in smaller chamber ensembles and jazz combos, and participate in other workshops on essential musical skills. National Youth Ensembles will perform new works written especially for them and create digital performances. Details will be announced.
Baldwin also performs with the All-State Jazz Ensemble of the Georgia Music Educators Association.
He is one of several students from the UNCSA School of Music who have been accepted into NYO programs in recent years. In 2019, Tyson Davis was an apprentice composer at NYO, and double bassist Isaac Present and violinist Ruth Kelley were selected. In 2016, sisters Emilia and Ella Sharpe were selected as violinist and double bass player respectively.
Contact media relations
Get the best news, performances and stories from UNCSA alumni.
SUBSCRIBE TO OUR NEWSLETTERS