The Smithsonian Folklife Festival returns to the National Mall with free evening concerts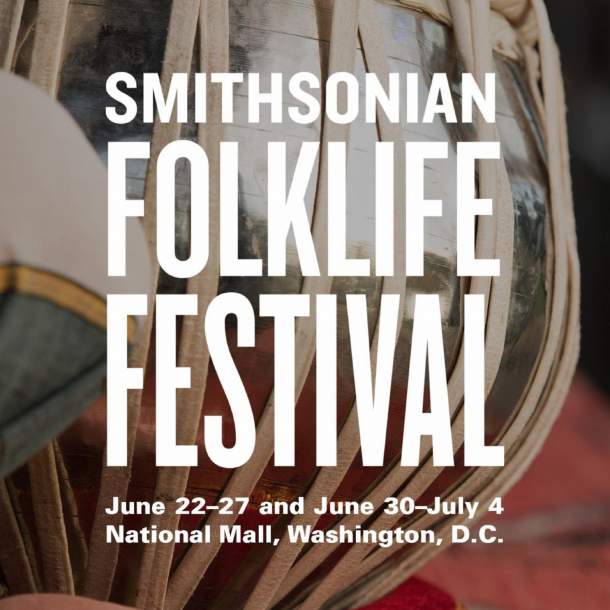 The 2022 Smithsonian Folk Festival, returning to the National Mall June 22-27 and June 30-July 4 after a two-year hiatus, will feature free performances from musicians steeped in traditions that span the globe. When the day's activities wrap up at 6 p.m., the festival transforms into a bustling concert hall and outdoor movie theater. These events are free and open to the public and will be presented on the Ralph Rinzler Main Stage located on the National Mall between Seventh Street and 12th Street. In addition, the selected concerts will be broadcast live on the festival's YouTube channel. Food is available for purchase at festival concessions or visitors can bring their own and enjoy a picnic at the National Mall.
The program includes a dynamic line-up of concerts and film screenings:
Internationally acclaimed musician and advocate for arts education, Yo-Yo Ma is hosting a concert featuring music and poetry from Afghanistan and beyond. Homayoun Sakhi (rubab), Salar Nader (tabla), Stanley Clark (bass), Ahmad Fanoos (vocals), Elham Fanoos (keyboard), Mehran Fanoos (violin), Hamid Habibzada (tabla), Nazira Wali (cello); and Cheryl Green (fiddle), Alex and Sophie Sherzai (vocals) with more to come. Presented in partnership with Asia Society–NY, the American Anthropological Association and Events DC.
Thursday 23 June, at 6.30 p.m.: A Night of Global Jazz + Funk
UAE-based band NOON kicks off the evening with a mix of jazz, rock and traditional Middle Eastern elements. Washington, DC go-go/funk heroes Experience Unlimited close out the night with their signature sound. Spectators are encouraged to bring their dancing shoes.
Friday 24 June, at 6 p.m.: Screening of the film: My Garden of a Thousand Bees
The festival features an outdoor screening of the hour-long documentary film, My Garden of a Thousand Bees. Safe from the pandemic, famed wildlife filmmaker Martin Dohrn sets out to record the incredible variety of wild bees in his little urban garden. The film is a production of Passion Planet, WNET Group and HHMI Tangled Bank Studios in association with Ammonite Films. The screening is presented by HHMI Tangled Bank Studios, a mission-driven production company dedicated to creating captivating and immersive films about science and scientists.
Friday, June 24, at 7 p.m.: Alice Gerrard and Leyla McCalla
Smithsonian Folkways Recordings co-presents an evening with two of the most inspired and inspiring voices of their respective generations. Icon of bluegrass music, Alice Gerrard brings her expressive voice, powerful songwriting and mastery of guitar, fiddle and banjo. American powerhouse Leyla McCalla is deeply influenced by traditional Haitian music, American jazz and folk. Support is provided by the Smithsonian American Women's History Initiative and complements the "Music HerStory: Women and Music of Social Change" exhibit at the National Museum of American History beginning June 22. Co-presented by Smithsonian Folkways.
Saturday 25 June, at 6.30 pm: En Pura Plena: Celebrating the life and loves of Tito Matos
Friends and family come together to honor the life and 40-year career of legendary Puerto Rican plena musician, educator and community leader Tito Matos, who died suddenly this year. Sharing the stage are the John Santos Sextet and Friends, Los Pleneros de la 21, Los Pleneros de la Cresta and Plenazo Cangrejero for meaningful exploration of his music. Co-presented with Smithsonian Folkways.
Sunday 26 June, at 4 p.m.: Ode to the Ozarks
Offering a preview of the 2023 Folklife Festival, this special performance features music from the Ozarks of old, blending fiddle, folk songs and mountain music. A trio led by David Scrivner will perform an Ozarks jam session, followed by Sylamore Special, a group of five teenagers based in Mountain View, Arkansas.
Thursday 30 June, at 6.30 p.m.: Los Texmaniacs with La Marisoul
Tejano favorites Los Texmaniacs return to the festival stage, bringing Los Angeles-based singer-songwriter musician Marisol "La Marisoul" Hernandez to share previews of their upcoming album on Smithsonian Folkways Recordings. First part to be announced. Co-presented with Smithsonian Folkways.
Friday July 1, at 6.30 p.m.: Wild Wild East and REBOLU by Sunny Jain
Percussionist and founder of Red Baraat, Sunny Jain's Wild Wild East draws inspiration from South Asian Jain roots, Bollywood classics, Indian folk traditions, jazz improvisation and surf guitar styles. This is followed by the Smithsonian debut of Afro-Colombian music ensemble REBOLU who will deliver vibrant salsa-inspired music rooted in the diverse Afrocentric rhythms of Colombia's Caribbean coast. Co-presented with Smithsonian Folkways.
Saturday, July 2, 6:30 p.m.: A view from the street — Urban culture in the United Arab Emirates
From hip-hop and trap to calligraffiti and spoken word, the United Arab Emirates is a global hub of culture and creativity. This concert illuminates the country's sonic diversity with performances from Arabic drill and trap pioneer Mustafa Ismail aka Freek, spoken word artists Maitha Al Suwaidi, Dorian "Paul D" Rogers and Jaysus Zain; polymath Philip Rachid aka Soultrotter with break dancers Lana Ramadan and Zilla, and a transmedia collaboration from Michael Ang, aka Mang, Diaa Allam and Tegan McDuffie. The evening ends with a screening of It Ain't Where You From by Rachid, a portrait of the underground street dance scene in the UAE, by The Arts Center at NYU Abu Dhabi and the Shubbak Festival (London). Organized by Bill Bragin/The Arts Center at NYU-Abu Dhabi.
Sunday July 3, at 4 p.m.: Riyaaz Qawwali
The festival's final performance offers a glimpse into 2023 and one of next year's featured programs, "Creative Encounters: Living Religions in the US" Dedicated to sharing a 700-year-old genre of Sufi devotional poetry and music from South Asia with a large American audience, Houston-based Riyaaz Qawwali will deliver a moving program bridging religions and cultures. Support is provided by the Lilly Endowment Religious and Cultural Institutions Initiative.