Vermont Arts News | Vermont Arts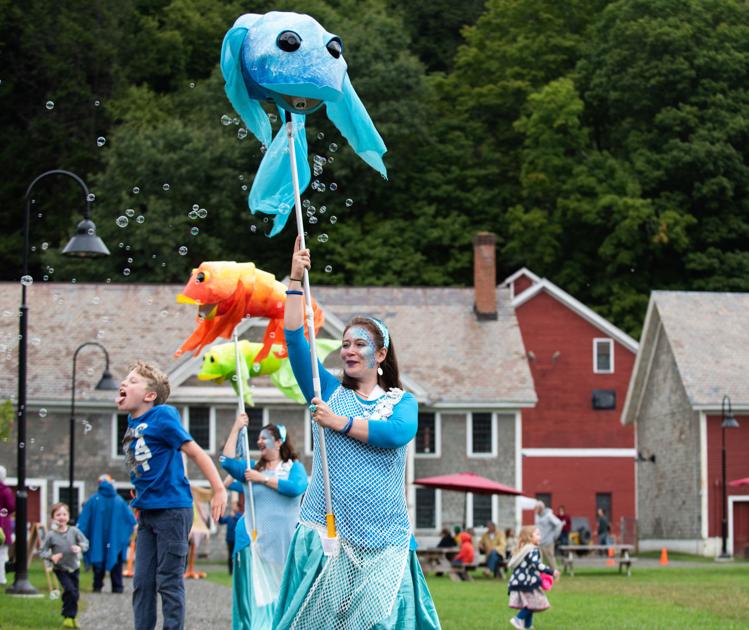 BRATTLEBORO – The Sandglass Theater's top-rated community event, "Puppets in Paradise," returns to Retreat Farm today (September 4) and Sunday with a rain date Monday (September 6).
Historically, this event has been a major fundraiser for the Sandglass Theater. This year, however, Sandglass is doing things a little differently. In recognition of the significant economic impact of the past year and a half, "Puppets in Paradise" will be free for everyone and Sandglass pays the artists, who usually donate their performances.
"Puppets in Paradise" brings artists and audiences together for a two-day celebration of the arts of puppetry and theater in the beautiful agrarian traditions of southern Vermont. This first biennial family event is produced with Retreat Farm, a prominent feature of the Brattleboro landscape for 180 years.
"Puppets in Paradise 2021" will be a sweet and safe opportunity for the audience to return to the in-person performance and meaningful engagement between the audience and the performers. The performances will cross vast farmlands with artists and companies grouped together along three different paths to leave enough space to enjoy each of the performances. Entrance hours to the event are daily at 10 a.m., 11:30 a.m. and 1 p.m.
Each course includes three short-lived performances that culminate in Farmhouse Square. Plus, you'll have time to visit some of the farm's offerings such as grazing animals, food, and refreshments including local food trucks.
RANDOLPH – The Chandler Center for the Arts and the New World Festival Program Committee announced new COVID security protocols for Sunday's 29th annual New World Festival:
– All festival passes include a virtual ticket that will show the whole festival and all the acts on all stages. It will be a real-time livestream, not a replay.
– Universal masking will be required in all buildings and in the family space, as well as on the dance floor. (NWF will have a supply of masks.)
– Signage will direct traffic and encourage participants to be aware of social distancing.
– Seating at Bethany and Chandler will be limited and in the tents will be allocated with individual chairs. Family groups can come together. The dance will be contactless only.
– The crafts of the family area will be individualized so that each child has his own material
PUTNEY – Twilight Music continues its 18th Twilight on The Tavern Lawn series of folk, world beat, zydeco, Celtic, jazz, rock and bluegrass summer concerts on Sunday, September 5, with the Julian Gerstin Sextet performing original jazz influenced by rhythms and melodies from the Caribbean and Eastern Europe.
Co-presented with Next Stage Arts Project, the five-concert series ends on Sunday, September 19 with Planet Zydeco. Concerts start at 5 p.m. in downtown Putney on the lawn of the Putney Tavern (bring a lawn chair or blanket) or at the Next Stage at 15 Kimball Hill in case of rain.
The group includes a lineup of star New England musicians: Anna Patton (clarinet), Don Anderson (trumpet), Wes Brown (bass), Ben James (drums), Julian (percussion) and, for this event, young phenomenon. Andrew Wilcox (piano).
Admission is free (donations are welcome) and food will be available; call 802-387-5772 or go online at www.twilightmusic.org for more information.
BURLINGTON – A new "small" museum of the history of music in Vermont will open on the evening of Friday, September 10, inside Big Heavy World headquarters at the corner of Pine and Howard streets. The opening is one of many community events including South End Art Hop, a weekend-long arts celebration in the South Burlington Arts District.
Volunteers from Big Heavy World – an independent, non-profit organization that archives and promotes Vermont music – expanded a 2019 exhibit they organized for the Local History Gallery at the Vermont Historical Society Museum in Montpellier. This exhibit – "Vermont Music Far & Wide" – was recognized with the 2019 League of Local Historical Societies and Museums Award of Excellence in Public Exhibits / Programs. The VHS museum curatorial experience provided the inspiration to create a tiny museum, a labor of love and community collaboration as it has developed over the past two years.
The museum's opening hours during Art Hop will be 5 p.m. to 10 p.m. on Friday, September 10, and 10 a.m. to 10 p.m. on Saturday, September 11. Following the opening event, the museum will be open weekly from 6 p.m. to 8 p.m. on Wednesdays, and hours will expand as docents are scheduled. Big Heavy World is located at 4 Howard St., # A-8.
ST. JOHNSBURY – The Levitt AMP St. Johnsbury musical series ends the 2021 season with a rare Saturday night concert at Dog Mountain. On Saturday September 4, Catamount Arts will present Cantrip, the favorites of the Northeast Kingdom at 5 p.m.
The name Cantrip is an Old Scots word meaning charm, spell, or mischief, and it aptly describes the unexpected twists and turns of their musical arrangements, as well as the compelling power of their musicality. Swirling edging pipes, a raging fiddle, booming guitar, and three rich voices blend together to create a sound that is energetic enough to rip the roof off.
MIDDLEBURY – The Town Hall Theater will present "An Evening with the Bengsons," featuring the powerful married indie-folk duo, Abigail and Shaun Bengson, at 7pm on Friday, September 10th.
Based in New York and Vermont, the Bengsons have performed across the country and around the world. Their video, "The Keep Going Song" has been viewed over 4 million times, resounding like a hymn to perseverance, through the pandemic and beyond.
"The powerful impact of this Bengsons song cycle comes from these simple celebrations of limitations received and overcome, moving beyond negativity and sadness to climb into joy and light," says theater critic Rick Pender. "Our memories should reflect what is happening in our own hearts and bodies as we process the world," said Abigail Bengson.
Tickets cost $ 28; call 802-382-9222, or go online at townhalltheater.org for tickets or information.