World Music Album Review: Bassist Alune Wade's Brilliant "Sultan" – A World Patchwork Quilt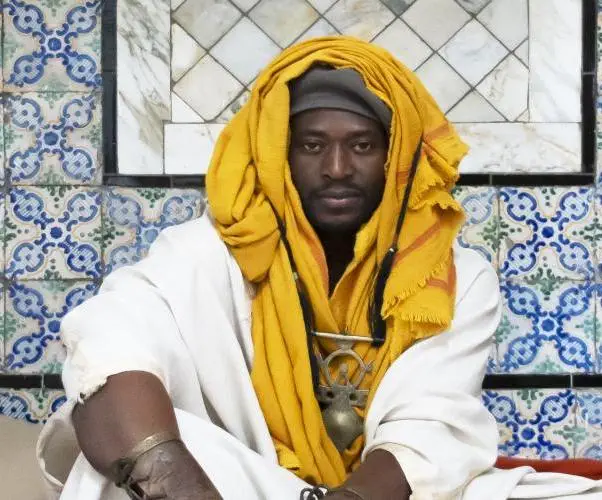 By Allen Michie
Sultan has a solid lock on my year-end best of 2022 list. Let's make the world a little smaller and make this album a success.
Alune Wade, Sultan (Enja and Yellowbird)
Now that's the way to make an album. Go straight to your list of how you like music: funky, lyrical, soulful, exotic, grooving, multicultural, honest, political, emotional, intimate, well produced but not slick, varied, jazzy, rock, historically aware, experimental , tight, without cliché, efficiently arranged, variously instrumentalized, thick with percussion and bass, thematic, cinematic and ambitious without being pretentious. All this and more describes Alune Wade Sultan.
Wade is a virtuoso electric bassist from Senegal, and he's a protege of Marcus Miller. He has the same deep kick as Miller, which is no exaggeration, and he shares the same ear for atypical funk lines. Miller asked Wade to contribute as a songwriter and vocalist on his 2015 album Afrodeezia. Miller's associations lean towards the more commercial aspects of jazz and R&B, while Wade's list of musical partners spans continents and genres: Salif Keita, Oumou Sangaré, Bobby McFerrin, Joe Zawinul, Fatoumata Diawara, Paco Sery, Wolfgang Muthspiel, Bela Fleck, Cheick Tidiane Seck, Deep Forest and Gregory Porter.
Wade is dedicated to using music to cross international borders. His 2015 album Havana-Paris-Dakar is a good example. He gives North African music a Parisian touch with the help of Cuban pianist Harold López-Nussa. Sultan was recorded in Paris, Brooklyn, Dakar and Tunis. That alone should suggest the musical styles of this recording. Wade's ambition for Sultan is to create "a composition open to a multimillennial era that is able to surround itself with different sensibilities to trace the journey of humanity and unite the rhythms of their languages". Note that it doesn't say different genders, styles or nationalities. He says "different sensitivities." This is what keeps this global patchwork from becoming a disunified mess. It shifts from one sensibility to another, which, depending on the music, isn't so different from culture to culture after all.
Wade also produces, does some vocals and writes the arrangements on Sultan. They are complex, creative and deeply informed about the different approaches to world music. They're also tight, funky and fun. They are not formless jam sessions: each song has a direction, a thematic objective and a melodic orientation. Every element of the arrangements earns a living and is there for a reason, often explained in the informative and revealing liner notes. For the track "Nasty Sand", for example,
The seductive binary rhythm is not there by chance. It is there to hook you and focus your attention on the message that the artist has decided to convey. . . . The melodies intertwine between continuity and crossbreeding of cultures, a guitar and bass riff takes up the Gnaoua rhythms, while the brass plays both African and American blues. Wade designates the pianist as the storyteller who weaves a link between the blues brought back by the deportees (ex-slaves) and their European instruments and old African instruments. . . . A deconstruction, then reconstruction, which follows the movement of migrating populations.
I will only highlight a few of the 12 tracks to draw attention to the range of approaches to Sultan. The passages in quotation marks come from the liner notes.
The second track, "Donso", begins with soothing percussion, Cédric Duchemann's floating piano solo and Dramane Dembele's brief but expressive flute "saluting to Mother Nature". Then the melody shifts to a much faster loud polyphonic rhythm indicating "animals advancing, sometimes interrupted by a cry". The songs of the African group on Maghrebian rhythms are powerful. Instrumentation moves in and out, much like background colors would move to bring parts of a painting to the fore. the whole movesin homage to the "proud and intrepid Wolof warriors, born of the ancient kingdoms of Senegal, Gambia and southern Mauritania".
"Sultan" speaks of the dunes. It tells "the odyssey of the sultan who, like the queen of Sabah, criss-crosses the continent, and starts in a tent. We feel the heat of the desert, and we imagine the procession, the perfumes, the rites. The Middle Eastern song of Mounir Troudi wanders freely on the 6/8 rhythm, punctuated by the horns. Quarter tones and passionate screams take you far from Western expectations of what music can express. The impression is of circles within circles, with "musicians in harmony, listening to each other, calls and responses, delivering messages in which the subtle composition shifts, both in time and in the space ". American listeners should take note of the reminder: there is much more to call and answer than is found in the blues and jazz traditions. True to the wildly intersectional overall approach, the track ends with a trumpet playing something like an improvised classical baroque cadenza.
"Nasty Sand" introduces pure rock and roll into the mix. It features Guimba Kouyate on guitar and Wade on bass. This kind of crushing African soul/funk/rock kicks a lot of multicultural butts. It's a killer track that does what it promises to do, which is to provide "a symbol of the ongoing struggle, it's the evil oil sand, which brings no joy to the African continent" .
"Uthiopic" makes it perfectly natural to have a fusion of rap, outdoor jazz, R&B, hip-hop and afropop. Complex drum patterns wouldn't sound out of place on Miles Davis In the corner. Rising jazz star Christian Sands on piano pushes the track to push the boundaries. The lyrics are in three languages, and there are contributions from Senegalese rapper/poet PPS the Writah. The interplay of melody, harmony and rhythm will keep you coming back for multiple listens. Sands goes solo again on the jazzy "Djolof Blues", which is "the history of Senegal played on a blues that one could call national". Sands begins by creating a jazz club vibe, aided by Hugues Mayot's cool soprano sax, but he piles on the dissonance until he brings it to a thunderous conclusion. "Lullaby for Sultan" keeps Sands up and raises the jazz bar with drummer Lenny White. A recurring chord progression makes this a more traditional jazz song, though the atmospheric Ethiopian melody keeps the procedure mysteriously evocative. Wade takes a fretless solo reminiscent of Jaco Pastorius.
"Portrait de Maure" is a standout track among these standout tracks. "The song studies African youth who must face their realities, scrutinize the world they live in and must try not to swim against the tide." Far from setting an oppressive tone, it's a brilliant, uplifting and fast track. Percussionists Cheikh Anta Ndiaye, Adriano Tenorio and Paco Sery keep things moving. Good to hear some more of Wade's solo work. Just as the track settles into a groove or melody, it expands or expands it, keeping the track engaging and exciting. It's the first single from the album, and I hope it makes it onto some of the progressive playlists. Eclectic public radio shows and college stations need to check this one out. Ditto for "Celebration", a happy return to Bollywood. Reminds me of Marcus Miller's raucous "Blast" from his 2008 album Mark (or the even better version on 2010 A night in Monte Carlo). "Drums are intimately linked to our vital rhythm because we have to celebrate life, birth, loss, mourning and the album. It's a struggle.
"L'Obre de L'âme" is a ballad that mourns Wade's parents. Modal melody is expressive, dark, and hard to pin down on a map. (Music theorist Anna Brock has described the mode as "two layered Phrygian tetrachords", but that only approximates the Middle Eastern and Near Eastern sound, something like an Islamic call to prayer with memories of Pakistan.) Ismaïl Lumanovski is a revelation on the clarinet: when played in harmony with Wade's arco bass, you will check the liner notes twice to confirm that what you hear is not some kind of electronically modified sitar. It's a beautiful and (to my ear) completely original sound that only a master arranger could invent.
Sultan has a solid lock on my year-end best of 2022 list. Let's make the world a little smaller and make it a success.
---
Allen Michie works in higher education administration in Austin, Texas.